4 dBi wideband 3G/4G/LTE antenna d. 11 cm (4″)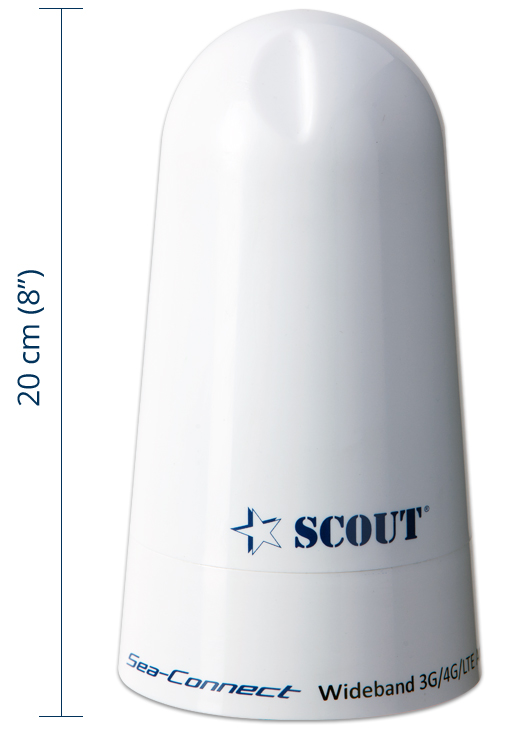 The new Scout Sea-Connect wideband antenna provides coverage for 3G/4G/LTE and WLAN systems in a compact and waterproof design, ideal for any type of boat. Excellent performance with VSWR less than 1.5:1 in all 3G and 4G bands.
With all these properties the Sea-Connect is the perfect external antenna to link to a 3G/4G router on board, enabling internet connectivity on board also during the navigation on the open sea.
---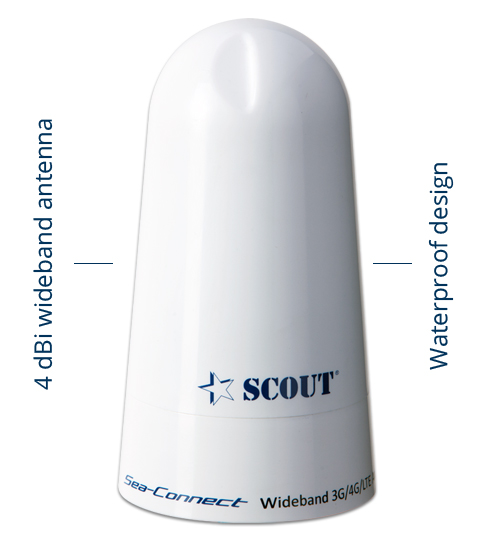 The frequencies supported are 698-2700 MHz covering all major bands: 4G, 3G, AWS, LTE, CLR, DCS, IMT, ISM, PCS, WCDMA, WCS, WiFi, WiMax, Cellular.
---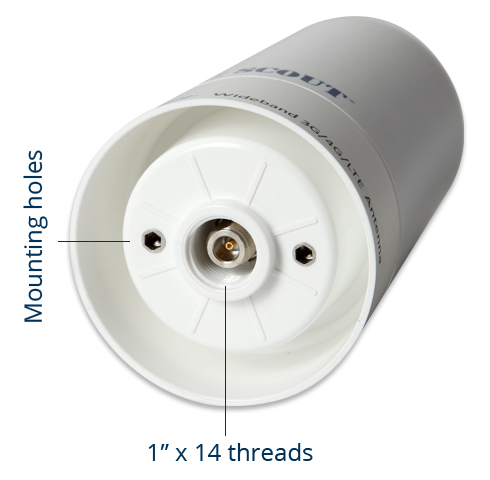 Easy to install both on standard 1″ x 14 threaded mount model PA-40 and on deck  as a permanent, through-hole mount solution (onto a non-metal surface or enclosure). The UV stable casing provides outstanding corrosion resistance in the harshest environments. The antenna terminates in an N type female connector.
Suggested coaxial cable for the installation: LMR-400 or similar.
---
Full Band (698 – 2700 MHz)
Excellent performance in all 3G and 4G bands
Designed for marine use
Omni-directional antenna 4 dBi Gain
Easy to install (mount/deck)
Technical specifications:
| | |
| --- | --- |
| Frequency Range | 698-2700 Mhz |
| V.S.W.R. | ≤1.7 |
| Polarization | Vertical |
| Gain | 4 dBi |
| Horizontal Beamwidth | 360° |
| Input impedance | 50 ohm |
| Max power | 100W |
| Antenna diameter | 11 cm (4″) |
| DC Ground | Yes |
| Connector | N female |
|  Code | PF AN NWB01 |

Download: