Advanced 5G/WiFi Connectivity System
The 5G onBoard Plus Black is the all-in-one super-fast speed Internet system for boats that provides 5G connectivity for up to 150 users simultaneously. 5G onBoard Plus is the evolution of the Scout 4G connectivity system, specifically designed and tested in a marine environment to provide maximum navigation performance in both download and upload. The system consists of a brand new 25 cm diameter dome made of ASA resistant to atmospheric agents and sunlight, with an elegant and compact design and a latest generation router with dual SIM card system, capable of reaching maximum of 3.3 Gbps, with reinforced aluminum body and fully configurable remotely via dedicated app.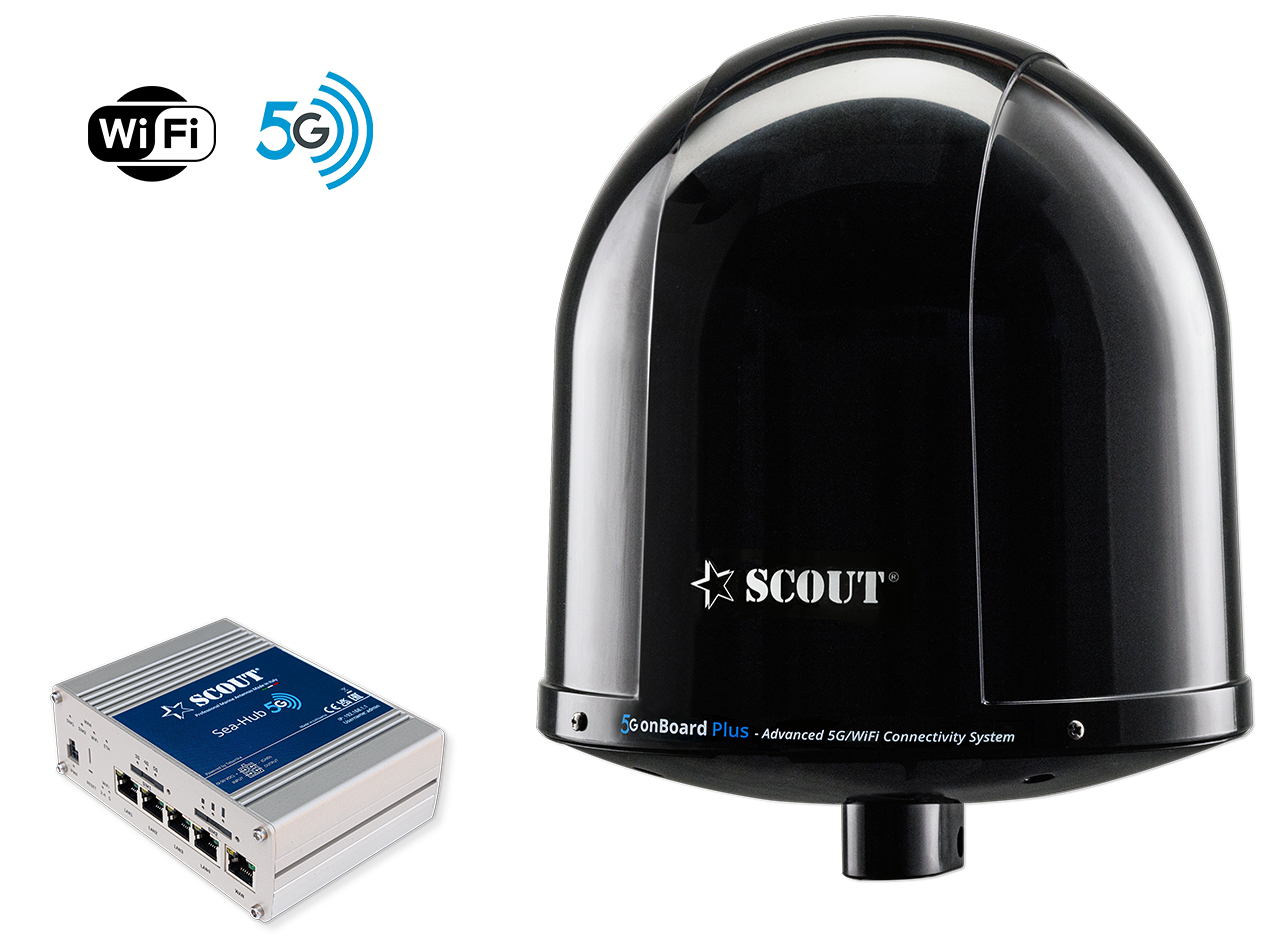 With 5G onBoard Plus the boat turns into a professional Internet connectivity centre, thanks to the dedicated high-speed wireless network (Dual-band WiFi 5) and an ultra-fast wired network managed by the router's Ethernet ports. All the new-generation electronic devices can be connected to the Internet network: chartplotters, radios, smart TVs, IP cameras, tablets, smartphones, etc. The 5G connection speed allows easy HD streaming on platforms such as Netflix, Amazon Prime, Disney Plus, as well as music streaming services such as Spotify and many others.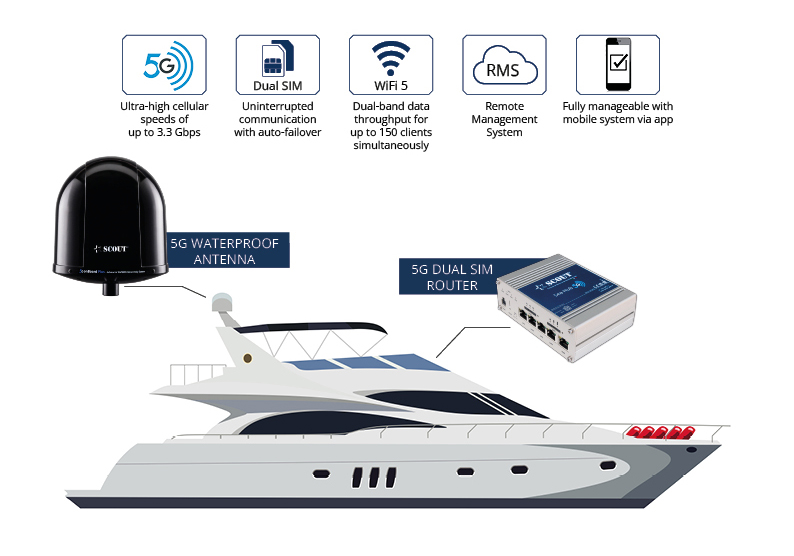 Thanks to the 4 powerful 5G antennas contained inside the dome, the 5G onBoard Plus system allows you to stay connected to the 5G network up to 20 miles away from the coast. In the event of a 5G signal failure, the system is also fully backwards compatible with 4G and 3G technology.
The new 5G router has all the latest generation technical features that allow you to create a very high-speed wireless and wired network on the boat, the low-loss cable connection with the external dome ensures the router works to its full potential, guaranteeing very short download and upload times. Both the setup and the remote control of the router can be managed with a new user-friendly app available for iOS (Apple) and Android.

RMS is a client-server-based system, which provides the possibility to access the router remotely even without the use of a public IP address. In this way it's quite easy to track the history of various status changes such as device temperature, mobile signal quality and data usage, making sure that no information is lost over time.
The 5G onBoard Plus Black is the core of infotainment for the modern boat. Also available in white color: 5G onBoard Plus
Contents:
1 x 5G Router
1 x  5G antenna dome
1 x EU power supply 9 VDC
4 x extension cable 5m type LMR-240 with SMA male/SMA female connector
Ordering:
| | |
| --- | --- |
| Item | 5G onBoard Plus Black |
| Code | PF AN NWIFI19 |
Accessories and antenna mounts are sold separately. Please check the accessories list below for your reference with links to the product pages.
Accessories:
| | | |
| --- | --- | --- |
| Item | Description | Page |
| MA-1 | Router DIN rail kit | Link |
| MA-2 | Router compact DIN rail kit | Link |
| MA-3 | Router surface mounting kit | Link |
| PI-3 | Cigarette lighter power supply for Sea-Hub plus | Link |
| PI-4 | Power cable with 4-way screw terminal for Sea-Hub plus | Link |
| PA-83 | Stainless steel rail mount | Link |
| PA-40 | Stainless steel marine mount | Link |
Additional documentation regarding the system can be downloaded following the links below.
Download: