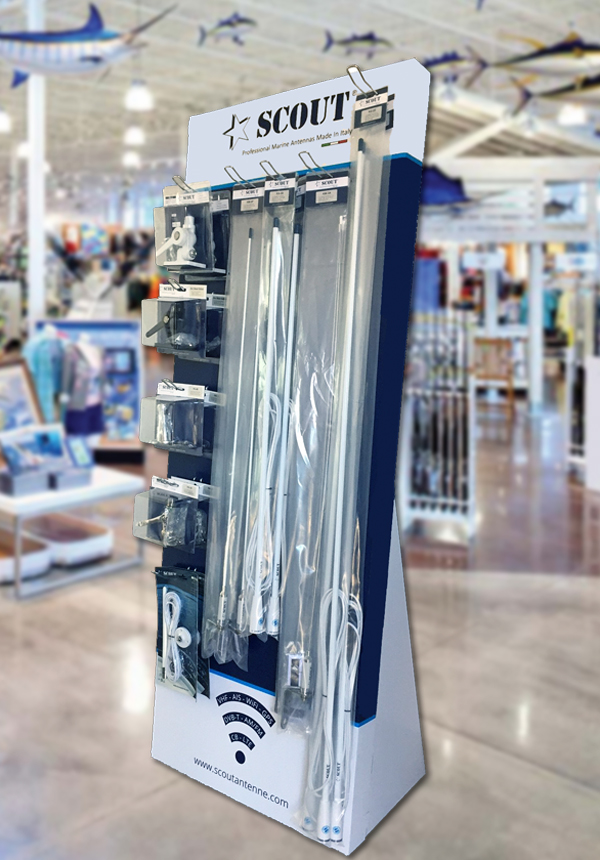 Displaying products in a professional and effective way is all important, especially for products that are difficult to exhibit because of non-standard size or shape. Marina antennas are this kind of product and that's why we have designed the new Scout Shop Display 2.0.
We care for our dealers and we're glad to offer this great tool that will definitely help you in displaying Scout products inside shops, showrooms or during boat shows and exhibitions. The Scout Shop Display 2.0 allows hanging 4 types of antennas and 5 types of accessories making them well visible to customers and boosting sales.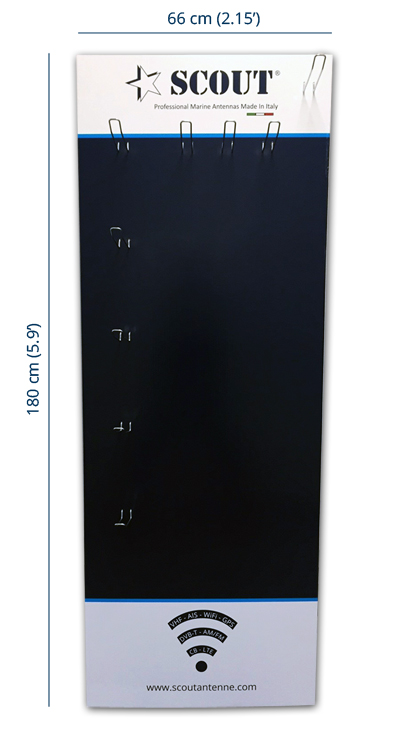 The Scout Shop Display 2.0 is made of heavy duty carton, self standing and extremely easy to assemble. It takes maximum 10 minutes to get the display ready, sizes are 180 cm (5.9') height and 66 cm (2.15') width.
The Scout Shop Display is also really affordable, it costs only € 50,00 + shipment cost (1 single box sized cm 202x77x8, Kg 6,30).
Moreover, we are glad to offer the Scout Shop Display 2.0 FOR FREE with purchase orders of € 750,00 or more.
The Scout Shop Display 2.0 is now available in our warehouse and ready to be dispatched to your shop!
Info and purchase:
Scout S.r.l.
www.scoutantenne.com
scout@scoutantenne.com
tel. +39 0598754474