3 db VHF fiberglass antenna 1,5 m (5') length – QuickFit

 QuickFit is the brand-new line of ready-to-install marine antennas by Scout, that do not require the installation of RF connectors, easy to remove and totally waterproof thanks to the Scout original foam injection technology.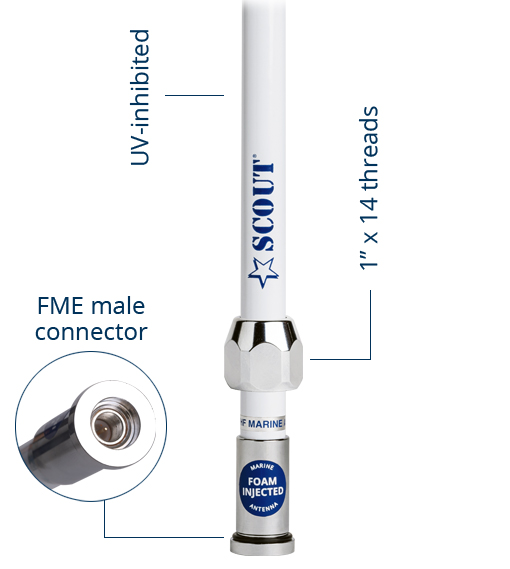 QuickFit antennas are built with FME type termination, they come with coax cables with pre-installed connectors and do not require any specific equipment or tools to make the installation on the boat, either on deck, rail or mast. Installation can be carried out easily as no technical skills are required.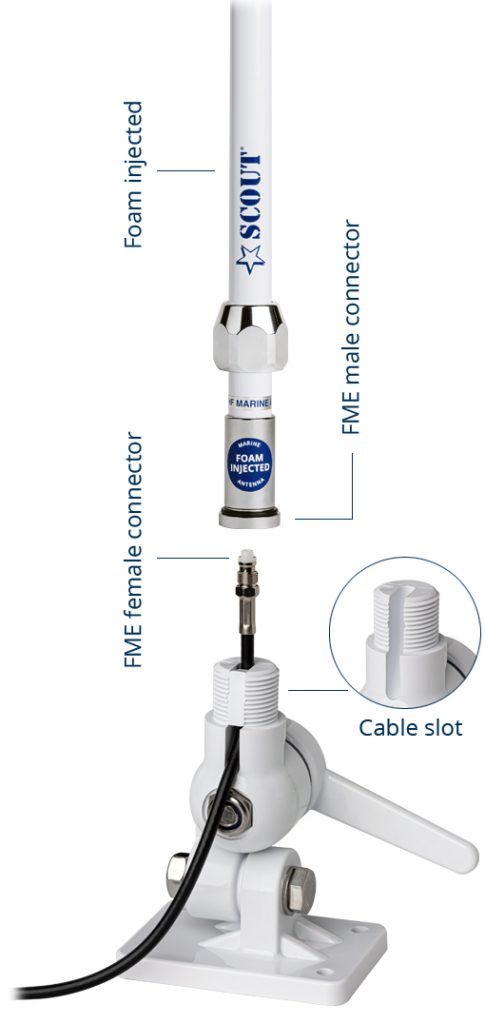 The QUICK 2 antenna is built with a 1,4 mm thick fiberglass whip that gets fully foam injected with the special Scout 100% waterproof technique, and it's ice white colored with high gloss anti-UV filter to prevent color deterioration. A perfect antenna for its design and construction suitable for any type of motorboat.

Technical specifications:
| | |
| --- | --- |
|  Frequency |  156-162 MHz |
|  Impedance |  50 ohm |
|  Electrical length |  1/2 λ |
|  V.S.W.R. |  < 1,5:1 |
|  Polarization |  Vertical |
|  Gain |  3 dB |
|  Max power input |  50 W |
|  DC ground |  Yes |
|  Whip material |  Fiberglass |
|  Connector |  FME Male |
|  Mounting |  1″ x 14 thread adaptor |
|  Length |  1,5 m (5′) |
|  Weight |  0,50 kilo |
|  Code |  PF AN NVHF00034 |
Content:
 1 x Antenna
 1 x 5m RG-58 coax cable with FME Female connectors
 1 x Adaptor FME Male/PL-259 Male