GPS – GLONASS antenna d. 7 cm (3″)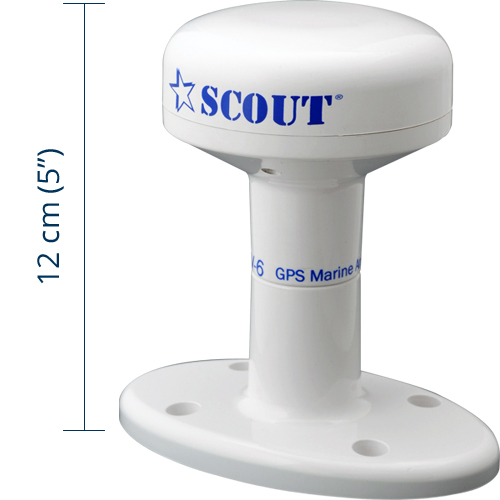 NAV-6 is a GPS and GLONASS antenna especially designed for the marine environment. It combines a high performance GPS patch antenna and a 24 dB low noise amplifier (at 5V DC) into a compact waterproof antenna with exclusive design.
---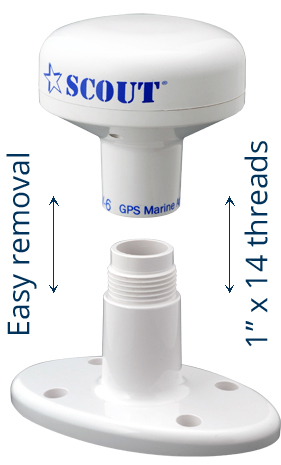 Connect the NAV-6 to a GPS or GLONASS receiver to act as an external antenna and improve the reception signal when the GPS unit doesn't have a good view of the sky and the internal antenna doesn't perform well.
NAV-6 is also a GPS antenna for the most popular AIS transponders on the market with TNC connector.
---
NAV-6 minimizes temporary loss of signal during navigation and maintains the best possible accuracy.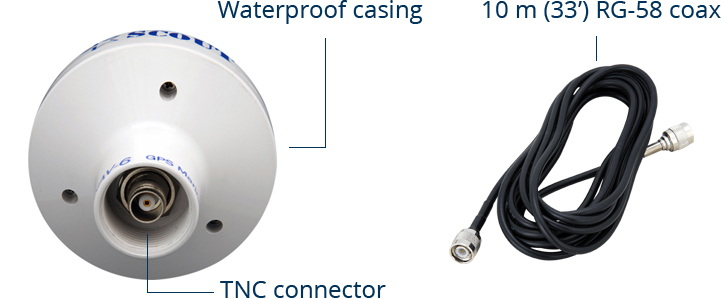 NAV-6  is supplied with deck mount, mounting set and a 10 m (33′) RG-58 cable with TNC male connectors. Standard 1″ x 14 threads for pole mounting.
24 dB low noise amplifier
10 m (33′) RG-58 cable with TNC male connectors
1″ x 14 thread standard mount
Technical specifications:
| | |
| --- | --- |
|  Frequency |  1572-1610 MHz |
|  Impedance |  50 ohm |
|  Polarization |  Vertical |
|  LNA Gain |  24 dB (5V), 23 dB (3V) |
|  V.S.W.R. |  < 1,2:1 |
|  Voltage supply |  2,7V – 5,5V |
|  Current |  15 mA to 25 mA |
|  Power (max) |  138 mW |
|  Operating temp. |  -40°C to +85°C |
|  Construction |  Fully waterproof |
|  Mounting |  Deck/pole 1″ x 14 thread |
|  Code |  PF AN NGPS001 |

Download: