3 dB VHF fiberglass antenna 2,4 m (8′) length – Black

Scout celebrates the 30° anniversary with the new collection of antennas Black Edition. These design antennas fit perfectly with black boats, grey boats, and with metal/alluminium finishings.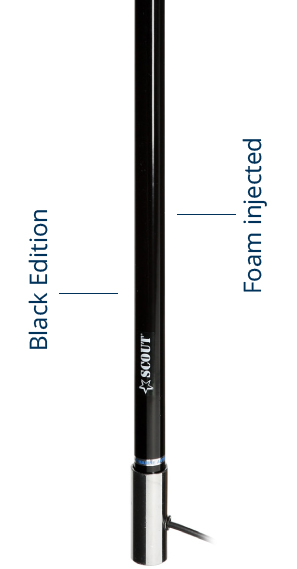 The KS-42 Black Edition is built with a heavy duty 1,5 mm thick fiberglass whip that gets fully foam injected with the special Scout 100% waterproof technique. Standard thread 1" x 14, chrome brass ferrule.
The antenna is supplied with 5m RG-58 MIL cable and 1 PL-259 connector to complete the installation on board. Suggested for medium and big size boats.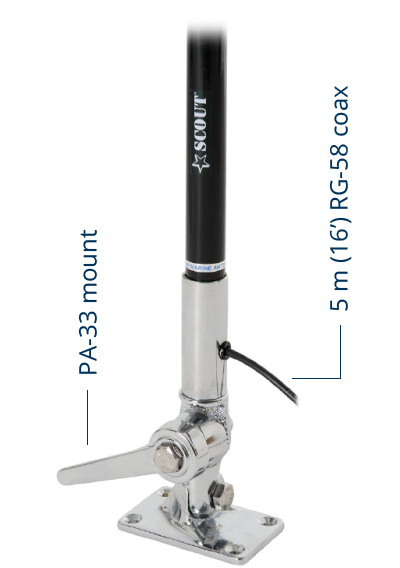 Black Edition
Foam injected – 100% WATERPROOF – IP69
5 m coaxial cable RG-58 CU MIL
Technical specifications:
| | |
| --- | --- |
|  Frequency |  156-162 MHz |
|  Impedance |  50 ohm |
|  Electrical length |  1/2 λ |
|  V.S.W.R. |  < 1,5:1 |
|  Polarization |  Vertical |
|  Gain |  3 dB |
|  Max power input |  50 W |
|  DC ground |  Yes |
|  Whip material |  Fiberglass |
|  Coaxial cable |  5 m (16′) RG-58 CU MIL |
|  Mounting |  1″ x 14 thread |
|  Length |  2,4 m (8′) |
|  Weight |  0,86 kilo |
|  Code |  PF AN NVHF00009 |