3 db AIS fiberglass antenna 1,0 m (3.3′) length

The Automatic Identification System (AIS) is an automated tracking system used on ships and by Vessel Traffic Services (VTS) for identifying and locating vessels by electronically exchanging data with other nearby ships and VTS stations. AIS transponders use two different frequencies, VHF maritime channels 87B (161.975 MHz) and 88B (162.025 MHz).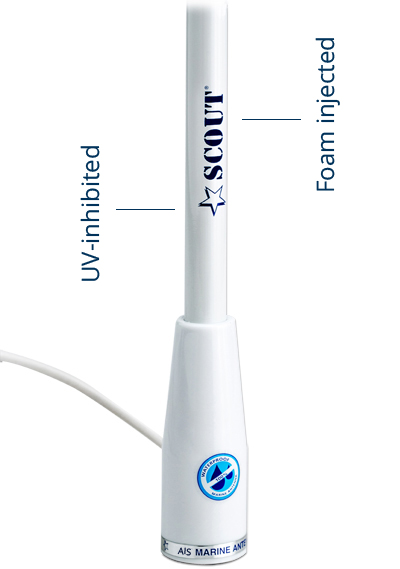 SCOUT has designed the KS-30 antenna to be tuned on the AIS frequencies.
Extremely light and performing, the KS-30 is built with a 1,4 mm thick fiberglass whip that gets fully foam injected with the special Scout 100% waterproof technique, and it's ice white colored with high gloss anti-UV filter to prevent color deterioration. The antenna is supplied with 5m RG-58 MIL cable and 1 PL-259 connector to complete the installation on board.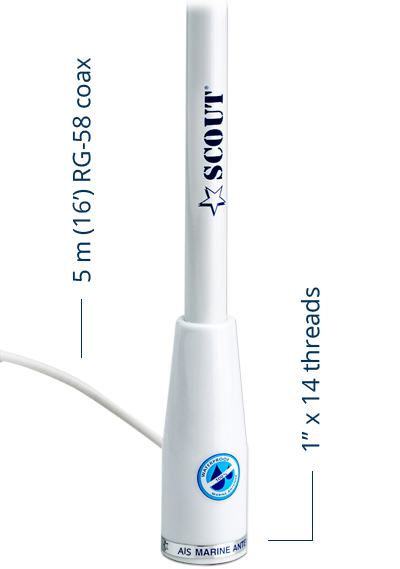 AIS 161.975 MHz / 162,025 MHz
Foam injected – 100% WATERPROOF – IP69
Anti – UV high gloss finish
5 m coaxial cable RG 58 CU MIL
Technical specifications:
| | |
| --- | --- |
|  Frequency |  161.975 MHz / 162,025 MHz |
|  Impedance |  50 ohm |
|  Electrical length |  1/2 λ |
|  V.S.W.R. |  < 1,5:1 |
|  Polarization |  Vertical |
|  Gain |  3 dB |
|  Max power input |  50 W |
|  DC ground |  Yes |
|  Whip material |  Fiberglass |
|  Coaxial cable |  5 m (16,4′) RG 58 CU MIL |
|  Mounting |  1″ x 14 thread |
|  Length |  1,0 m (3.3′) |
|  Weight |  0,39 kilo |
|  Code |  PF AN NAIS001 |