AM-FM fiberglass antenna 2,4 m (8′) length – Black

The KS-124 Black Edition is designed to pick up AM-FM radio signals also during navigation and in extreme weather conditions. It is built with a heavy duty 1,5 mm thick fiberglass whip that gets fully foam injected with the special Scout 100% waterproof technique.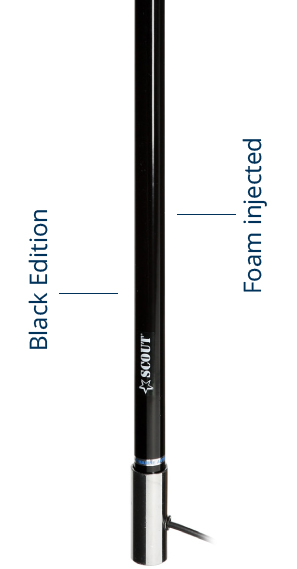 The antenna is supplied together with a 6 m (20') AM-FM cable + jack. The KS-124 Black Edition looks the same than the KS-42 Black Editon and KS-43 Black Edition (VHF antennas), to balance the appearance on the boat.
Foam injected – 100% WATERPROOF – IP69
4 m AM-FM cable + jack supplied
Technical specifications:
| | |
| --- | --- |
|  Frequency |  88-108 MHz |
|  Impedance |  75 ohm |
|  Electrical length |  1/2 λ |
|  Whip material |  Fiberglass |
|  Cable |  4 m AM-FM cable + jack |
|  Mounting |  1″ x 14 thread |
|  Length |  2,4 m (8′) |
|  Weight |  0,86 kilo |
|  Code |  PF AN NAMFM009 |