1/2 λ UHF Antenna N connector

The KM-3U/N antenna is specifically designed to be installed on top of alarm boxes or on a stand-off bracket, to transmit and receive the alarm signal.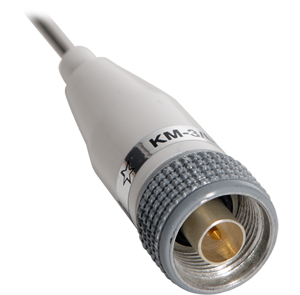 Quick and simple to install with its N connector. The antenna doesn't require a ground plane, therefore it could be used for many kinds of applications.
N male connector
1/4 λ
Stainless steel whip
Ground plane not required
Technical specifications:
| | |
| --- | --- |
|  Frequency |  450-470 MHz |
|  Impedance |  50 ohm |
|  Electrical length |  1/2 λ |
|  V.S.W.R. |  <1,5:1 |
|  Polarization |  Vertical |
|  Gain |  3 dB ISO |
|  Max power in |  100 W |
|  Bandwidth |  20 MHz |
|  Whip material |  Stainless steel |
|  Dimensions |  d. 20 x 38 cm |
|  Weight |  76 gr |
|  Connector |  N male |
|  Code |  PF AN SUHF001 |