3 dB VHF fiberglass antenna 1,5 m (5′) length – lift and lay mount

Premium quality, easy set up and quick lay down. The lift and lay mount makes it possible with an easy release. Indicated for fishing, trailering, coverage and storage. The special paint with anti-UV filter avoids the deterioration of the colouring and keeps the whip shining white.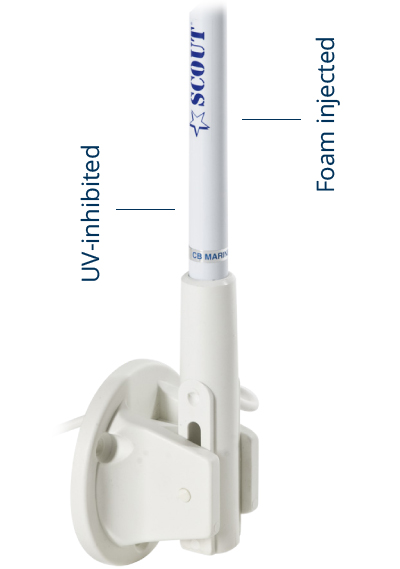 The new vinyl plastic cap, navy blue, provides a quality, finished appearance to the antenna and it's extremely resistant to high temperatures. Now 100% WATERPROOF.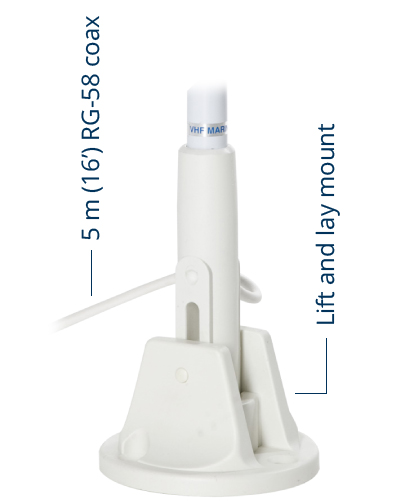 Lift and lay mount supplied with the antenna
Anti – UV high gloss finish
100% WATERPROOF Antenna
Base Lift and Lay inclusa con nell'antenna
5 m coaxial cable RG 58 CU MIL
Technical specifications:
| | |
| --- | --- |
|  Frequency |  156-162 MHz |
|  Impedance |  50 ohm |
|  Electrical length |  1/2 λ |
|  V.S.W.R. |  < 1,5:1 |
|  Polarization |  Vertical |
|  Gain |  3 dB |
|  Max power input |  50 W |
|  DC ground |  Yes |
|  Whip material |  Fiberglass |
|  Coaxial cable |  5 m (16′) RG 58 CU MIL |
|  Mounting |  Lift and lay mount |
|  Length |  1,5 (5′) m |
|  Weight |  0,55 kilo |
|  Code |  PF AN NVHF00005 |