Omnidirectional TV antenna d. 25 cm (10″)
The CRUISER is an omnidirectional antenna designed to receive all available analogue and digital terrestrial TV, FM and DAB signals through 360 degree radius, made specifically for the marine environment and for all types of vessels.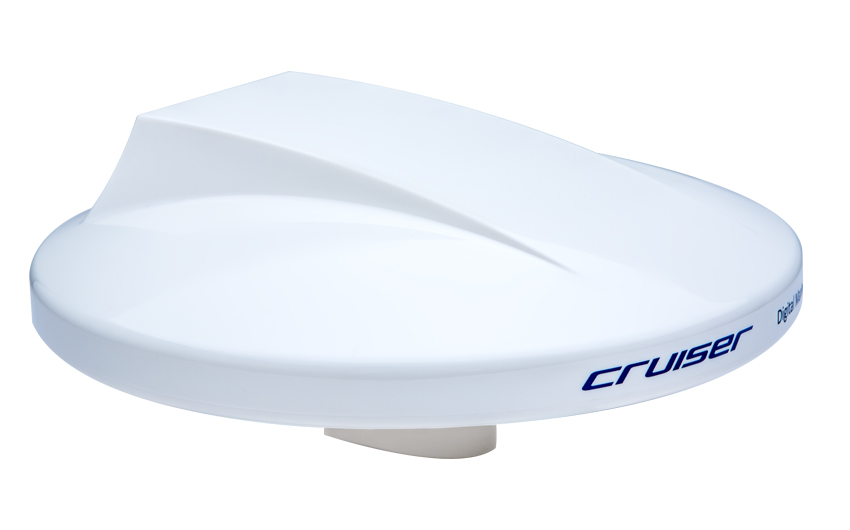 CRUISER è costruita specificamente per l'ambiente marino e adatta all'istallazione su ogni tipo di imbarcazione. Il sistema di ricezione omnidirezionale elimina il tempo di direzionamento antenna verso le trasmittenti TV e radio locali, permettendo un'efficace sintonizzazione sia da fermo che in movimento.

Omnidirectional design eliminates the time needed to locate the direction of a local TV and radio transmitter. The CRUISER is equipped with the Scout SEA-BOOST, a low noise amplifier with variable gain control that increases the strength of incoming digital signals.

The exclusive design, the compact size of only 25 cm diameter and the superior picture quality make the Scout CRUISER the perfect choice for boaters who want to enjoy premium TV and radio on board.
Superior picture quality
Compact size – 25 cm diameter
Including 12/24V high gain amplifier
Exclusive design Made in Italy
Mounting set included
Technical specifications:
| | |
| --- | --- |
|  Reception |  Omnidirectional 360° |
|  Frequency Range |  40-860 MHz |
|  Impedance |  75 ohm |
|  Channels |  2-69 |
|  Gain control |  0-18 dB |
|  Input power |  12-24V x 50mA DC |
|  Noise |  <4 dB |
|  Amplifier output |  2 |
|  Connectors |  F |
|  Antenna diameter |  25 cm |
|  Weight |  560 gr |
|  Material |  UV resistant ASA |
|  Code |  PF AN NTV001 |

Content:
1 x Antenna
1 x 12V low noise Amplifier with gain control model Sea-Boost
1 x 12V fused power cable
1 x Coax cable 75 Ohm 20 m (66')
1 x TV cable 1 m (3.3')
2 x F type male connector
1 x F connector security key
 
Download: