Omnidirectional TV antenna d. 25 cm (10″)
Black Cruiser is the brand new omnidirectional antenna from Scout, designed to receive all available analogue and digital terrestrial TV, FM and DAB signals through 360 degree radius, made specifically for the marine environment and for all types of vessels. The exclusive glossy black coloring is specifically dedicated to the aesthetics and design of the most modern boats and for those who want to stand out with the installation of a truly one-of-a-kind item.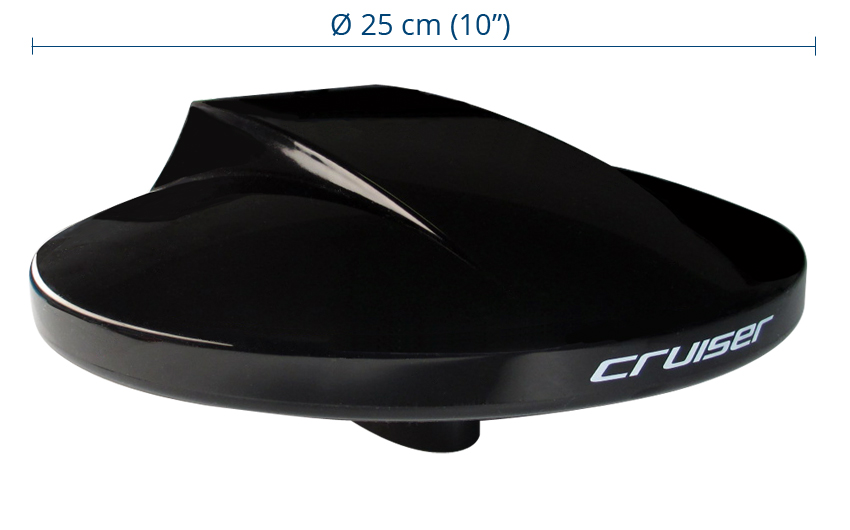 Omnidirectional design eliminates the time needed to locate the direction of a local TV and radio transmitter.
The antenna body has been specially designed for use in the nautical environment, and does not have any perimetral screw or slot that could allow even the minimum entry of water inside it.
The Cruiser is equipped with the Scout Sea-Boost, a low noise amplifier with variable gain control that increases the strength of incoming digital signals.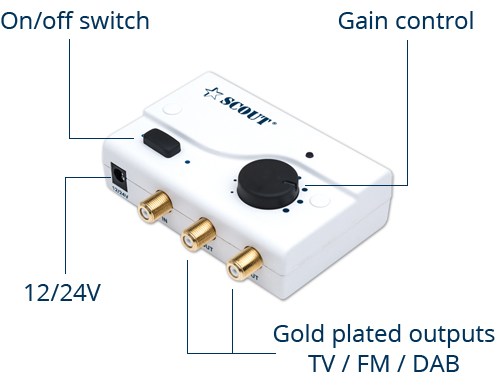 The antenna is supplied together with a 20m cable roll type RG-6 with double shielding, two F connectors, one fused power cable, one TV cable and screws to complete the installation of the amplifier on board.

Installation on a standard 1″ mount, such as model PA-40 for deck mounting and model PA-82 for masthead mounting. All supports are sold separately.
The exclusive design, the compact size of only 25 cm diameter and the superior picture quality make the Black Cruiser the perfect choice for boaters who want to enjoy premium TV and radio on board.
Superior picture quality
Compact size – 25 cm diameter
Including 12/24V high gain amplifier
Exclusive design Made in Italy
Mounting set included
Technical specifications:
| | |
| --- | --- |
|  Reception |  Omnidirectional 360° |
|  Frequency Range |  40-860 MHz |
|  Impedance |  75 ohm |
|  Channels |  2-69 |
|  Gain control |  0-18 dB |
|  Input power |  12-24V x 50mA DC |
|  Noise |  <4 dB |
|  Amplifier output |  2 |
|  Connectors |  F |
|  Antenna diameter |  25 cm |
|  Weight |  560 gr |
|  Material |  UV resistant ASA |
|  Code |  PF AN NTV003 |

Content:
1 x Antenna
1 x 12V low noise Amplifier with gain control model Sea-Boost
1 x 12V fused power cable
1 x Coax cable 75 Ohm 20 m (66')
1 x TV cable 1 m (3.3')
2 x F type male connector
1 x F connector security key

Download: