High performance omnidirectional TV antenna d.25 cm (10″)
The Big Wave is the maximum evolution in the field of digital terrestrial TV antennas for marine use, a high-performance omnidirectional antenna exclusively designed to receive all analogue and digital terrestrial TV, FM and DAB signals with a range of 360-degree reception, thanks to its internal construction with vertical and horizontal polarization.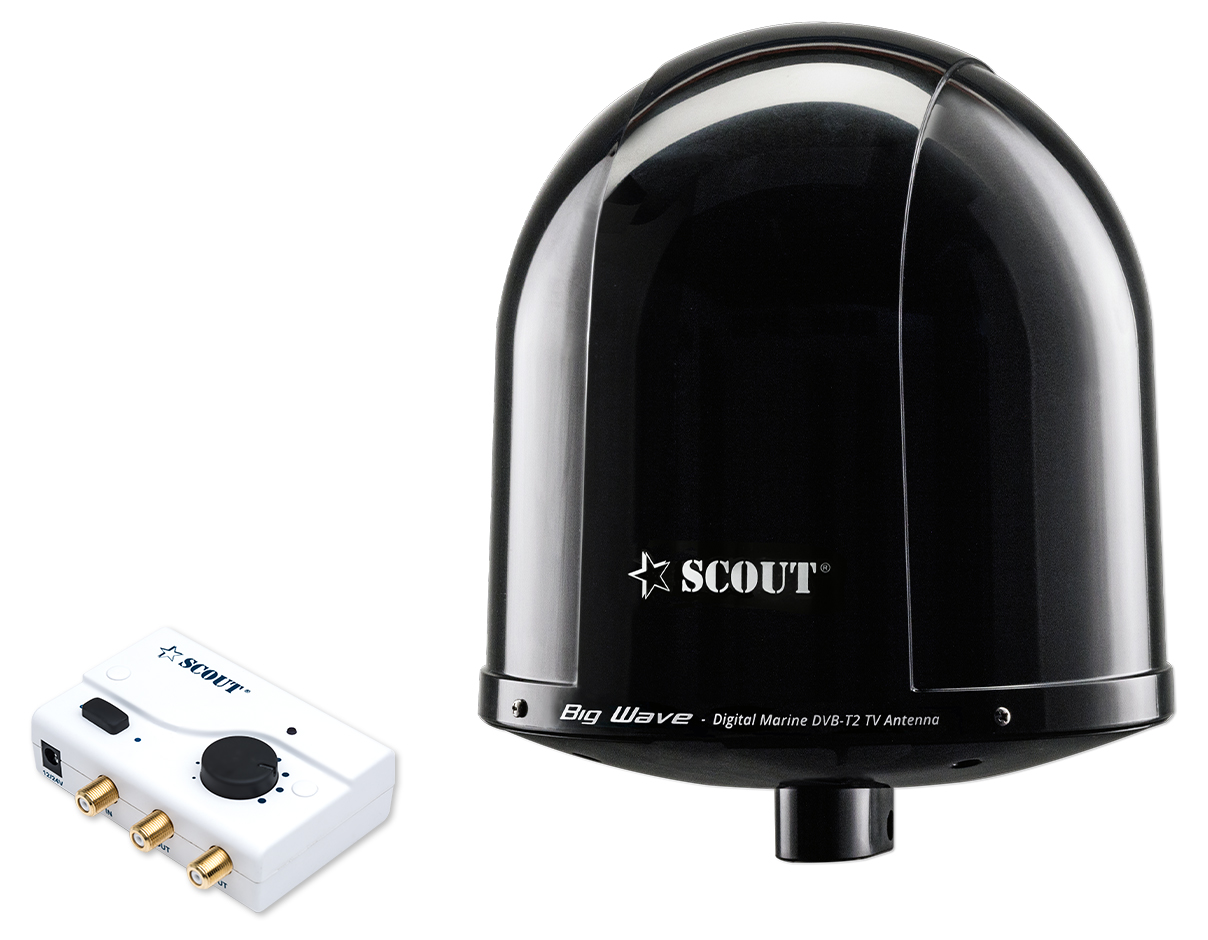 The antenna consists of a 25cm diameter dome with an exclusive design, made of ASA resistant to deterioration from sunlight that guarantees a maximum level of protection from water and atmospheric agents.
Built with an internal multiple dipole configuration, with both vertical and horizontal polarization, the Big Wave guarantees an outstanding reception performance and an always clear and constant signal transmission.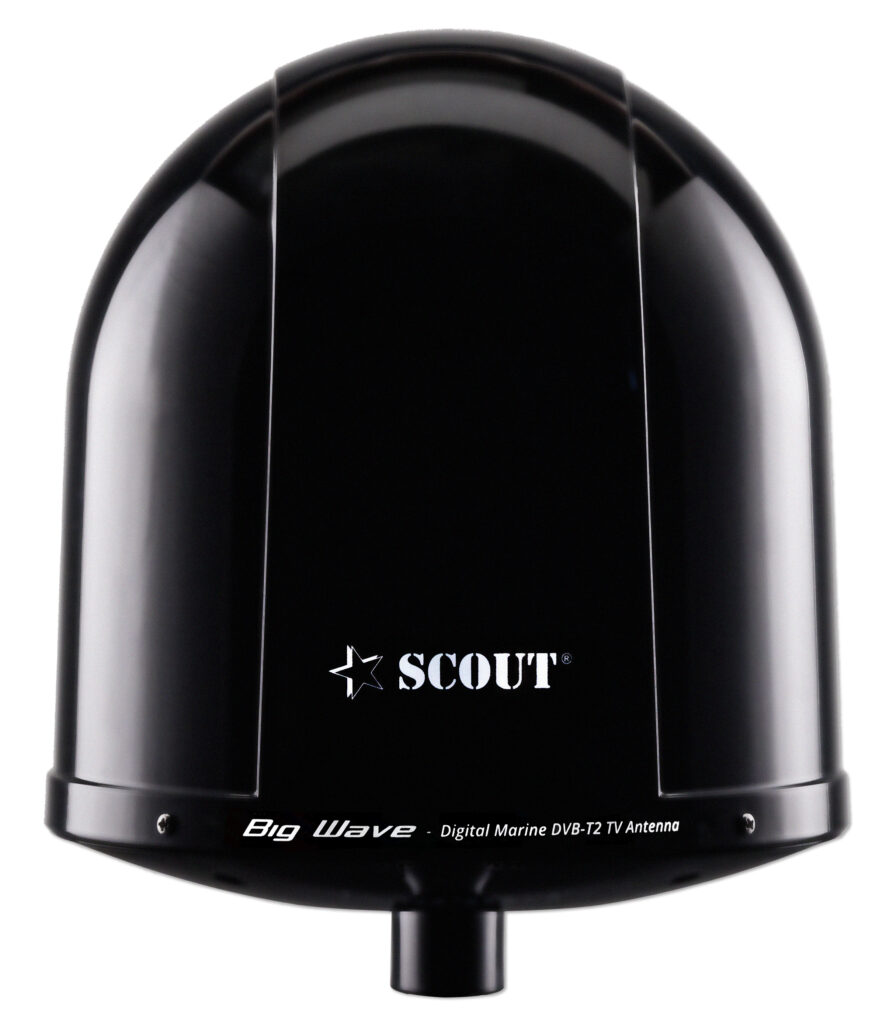 The antenna includes the Sea-Boost amplifier unit, a low noise amplifier with variable gain control that allows to increase the power of the input digital TV, FM and DAB analogue signals with extreme efficiency. The amplifier is equipped with two outputs for connecting both TV and FM radio, with the possibility of increasing the number of outputs adding dedicated splitters.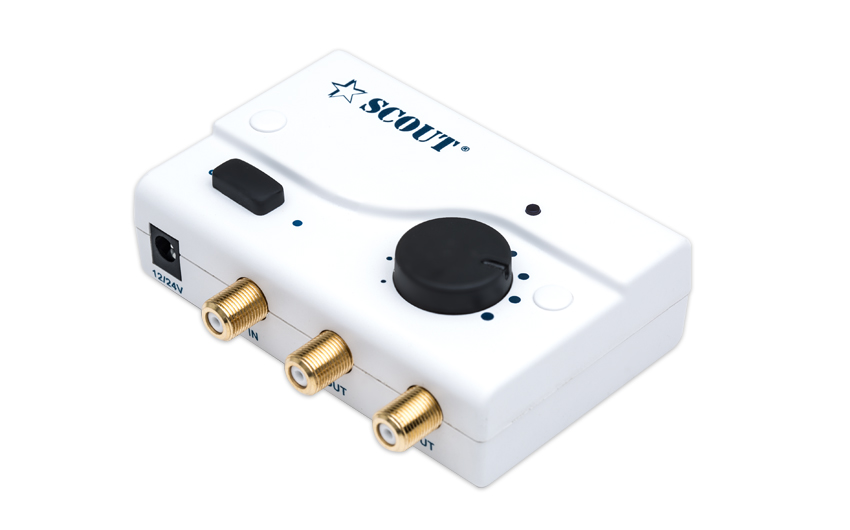 The equipment also includes 20m of RG-6 dual screen coaxial cable with very low loss and a 80% copper coverage level, in addition to the F-type connectors for connecting the antenna and the amplifier.

The antenna can be installed on a standard 1″ base (sold separately). See the Accessories table below for the suggested antenna supports.
Technical specifications:
| | |
| --- | --- |
|  Reception |  Omnidirectional 360° |
|  Frequency |  40-790 MHz |
|  Impedance |  75 ohm |
|  Polarization |  Vertical + Horizontal |
|  Channels |  2-69 |
|  Gain |  0-18 dB |
|  Max power in |  12-24V x 50mA DC |
|  Noise level |  <4 dB |
|  Amplifier outputs |  2 |
|  Connector |  F |
|  Antenna diameter |  25 cm (10″) |
|  Antenna height |  30 cm (11.8″) |
|  Weight |  950 gr |
|  Material |  ASA UV inhibited |
|  Code |  PF AN NTV007 |

Contents:
1 x Antenna
1 x 12V amplifier with variable gain control model Sea-Boost
1 x 12V power cord with fuse
1 x RG-6 coaxial cable with double shielding 75 Ohm (20 m)
1 x TV cable (1 m)
2 x F male connector

Accessories:
| | | |
| --- | --- | --- |
| Item | Description | Page |
| PA-40 | Stainless steel marine mount | Link |
| PA-7 | One way nylon mount | Link |
| PA-1 | One way nylon mount | Link |
| PA-42 | One way stainless steel mount | Link |
| PA-81 | Stainless steel bracket with brass mount | Link |
| PA-82 | Stainless steel masthead standoff bracket | Link |
| PA-83 | Stainless steel rail mount | Link |
Download: