VHF fiberglass antenna 0,22 m (9″) length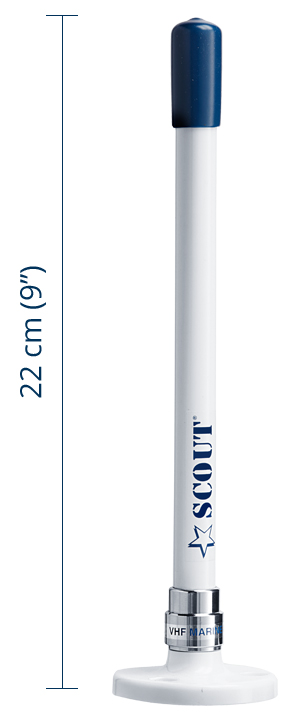 Fine technical construction, great design and convenient size all in one: this is the new KS-10, the short removable VHF antenna that many boaters have been asking for. With its total length of only 22 cm (9") the KS-10 is the shortest VHF antenna of the Scout range, moreover the whip can be easily removed by hand to facilitate trailering, coverage and storage. The anti-UV filter avoids the deterioration of the coloring and keeps the antenna bright white.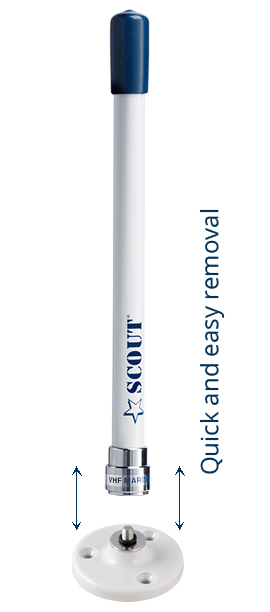 ---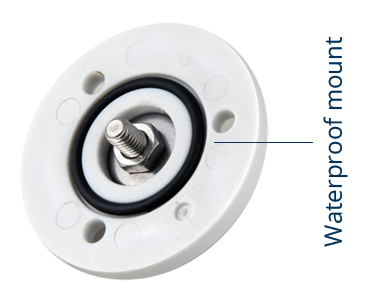 The mount of the KS-10 (6 cm diameter) has been designed to allow an easy and quick installation on any type of flat surface, and the inner rubber gasket prevents leakage.
---

The antenna is supplied together with a 5 m (16') RG-58 coax cable and PL-259 male connector.
---
100% waterproof antenna
Fiberglass whip easy to remove
Waterproof mount included
Fiberglass whip with anti-UV filter
22 cm length
5 m (16′) RG-58 CU MIL coaxial cable
Technical specifications:
| | |
| --- | --- |
|  Frequency |  156-162 MHz |
|  Impedance |  50 ohm |
|  V.S.W.R. |  < 1,5:1 |
|  Polarization |  Vertical |
|  Gain |  Unity Gain |
|  Max power input |  50W |
|  DC ground |  Yes |
|  Whip material |  Fiberglass |
|  Cable |  5 m (16′) RG-58 CU MIL |
|  Mounting |  Waterproof mount included |
|  Length |  22 cm (9″) |
|  Weight |  0,10 kg |
|  Code |  PF AN NVHF00025 |

Download: